3 Easy Appetizers for Your Holiday Party
By abm ● November 27, 2022

The holidays are all about hosting friends and family. Make entertaining a breeze with these easy, pre-dinner bites.
Apple Brie Empanadas
ingredients
1 cup Crisp Apple Reàl
2 Granny Smith apples, peeled, cored, and diced
1/2 tablespoon butter
1/4 cup bourbon
1 small wheel of brie cut into 2 oz pieces 
1/4 cup raisins
1/4 teaspoon salt
1/4 teaspoon cinnamon 
1/4 teaspoon nutmeg
1 pack Goya empanada dough (or homemade empanada/pie dough cut into 6-inch circles)
Melted butter, for brushing
Ice cream, for serving (optional)
Whipped cream, for serving (optional)
Fresh mint, for garnish
Directions
Sauté apples with butter for 3 minutes; Remove from heat, add bourbon, and carefully light on fire from the edge of the pan. When flame burn has burned off, continue cooking for 1 minute. 
Add the rest of the ingredients (except dough) and cook for another 3 minutes. 
Strain and reserve both liquid and apple mixture in separate bowls. Refrigerate apple-raisin mixture until fully chilled. 
Preheat oven to 350ºF. Lay out a dough circle on a sheet pan, add 1 tablespoon filling  and a piece of brie; fold in half, and pinch with a fork to seal. Repeat with remaining dough and filling.
Brush with melted butter, and bake for 10–15 minutes, until golden brown.
Drizzle with cooking liquid and serve with ice cream or whipped cream and fresh mint.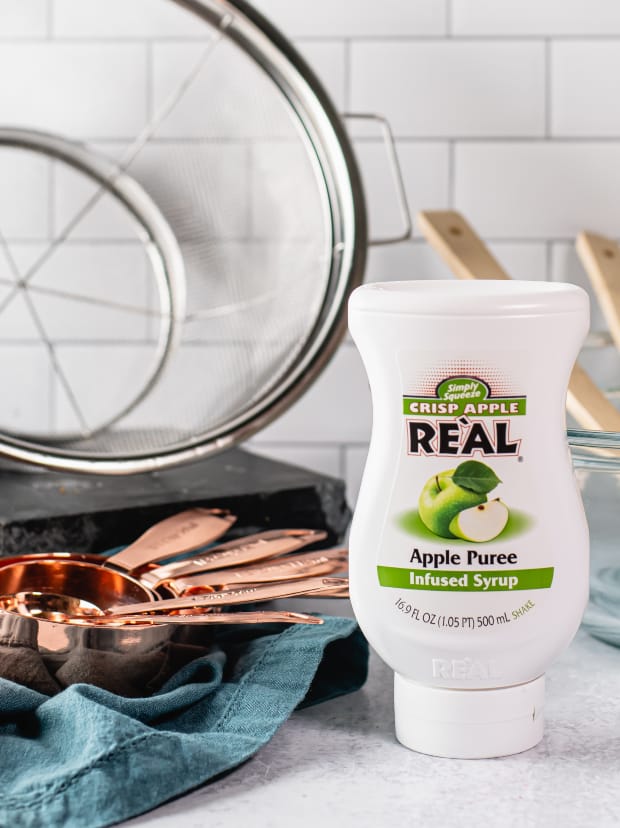 Mango & Fermented Chile Wings
ingredients
1 container Mango Reàl
1 container Mango Reàl
1/2 cup gochujang paste
1 teaspoon soy sauce
1 Tablespoon rice wine vinegar
1 teaspoon salt
4 oz vegetable oil
3-5 chicken wings per person
1/4 cup chopped scallions
1 Tablespoon toasted sesame seeds
1/4 cup chopped roasted peanuts
3 radishes, julienned
1/4 cup chopped cilantro
Directions
Combine Mango Reàl, gochujang, soy sauce, vinegar, and salt. . Store in refrigerator if not using right away.
Heat the oil in a deep pot to 350ºF. Fry wings for 10 minutes until crispy and cooked through.
Toss with sauce, scallions, sesame seeds, and peanuts. Serve topped with julienned radish and cilantro.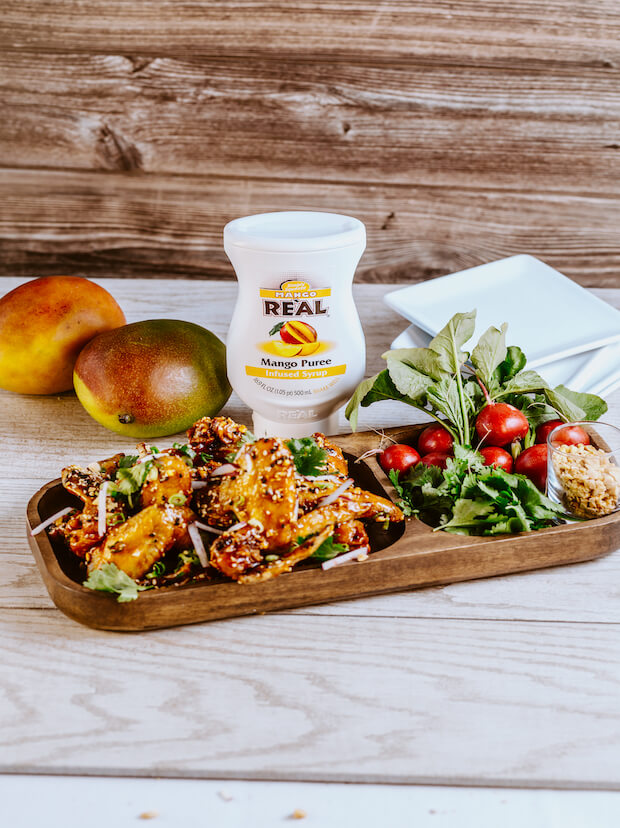 Green Apple Celery Salsa
ingredients
0.25 cup Crisp Apple Reàl
1 Granny Smith apple peeled and diced
2 stalks celery, peeled and diced
1 serrano chile, diced 
1 Tablespoon diced red onion 
Juice of 2 limes
Juice of 1 lemon
Grated zest of 1 lemon
1/2 Tablespoon salt
1/4 cup chopped fresh cilantro
Directions
Mix all ingredients together and refrigerate at least 30 minutes before serving.
Serve with grilled chicken or fish over wild rice.