Culinary
Spicy Passionfruit Cream
serves 4-6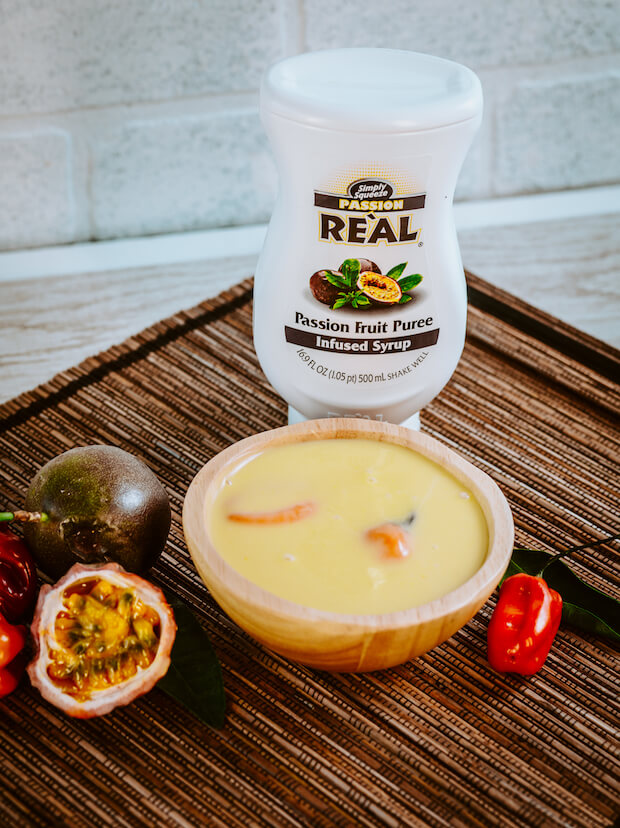 Reàl Culinary Ingredients are perfect for blending, baking, glazing, grilling, and so much more. Each of our syrups contain up to 40% pure fruit puree blended with all-natural cane sugar to create a product that is ideal for countless recipes — including this one! Let's get started.
ingredients
1 container Passion Reàl
Makes 1 pint
1 container Passion Reàl
2 cups heavy cream
1 teaspoon salt
1/2 teaspoon white pepper
1/2 teaspoon cayenne
Juice of 1 fresh passion fruit, or 2 oz frozen passion fruit
Garnish
Directions
Combine all ingredients, whisk and simmer for 5 minutes.
Try serving this on macadamia-crusted sea bass with cranberry couscous.
try it with:

                                Array
(
    [product] => WP_Post Object
        (
            [ID] => 583
            [post_author] => 1
            [post_date] => 2021-09-20 04:28:03
            [post_date_gmt] => 2021-09-20 04:28:03
            [post_content] => 
            [post_title] => Guava Reàl
            [post_excerpt] => 
            [post_status] => publish
            [comment_status] => closed
            [ping_status] => closed
            [post_password] => 
            [post_name] => guava-real
            [to_ping] => 
            [pinged] => 
            [post_modified] => 2022-04-19 19:10:26
            [post_modified_gmt] => 2022-04-19 19:10:26
            [post_content_filtered] => 
            [post_parent] => 0
            [guid] => https://abmcocktails.com/real-new/product/guava-real/
            [menu_order] => 1
            [post_type] => product
            [post_mime_type] => 
            [comment_count] => 0
            [filter] => raw
        )

)
                            

Guava Reàl

                                Array
(
    [product] => WP_Post Object
        (
            [ID] => 435
            [post_author] => 1
            [post_date] => 2021-09-20 04:26:15
            [post_date_gmt] => 2021-09-20 04:26:15
            [post_content] => 
            [post_title] => Mango Reàl
            [post_excerpt] => 
            [post_status] => publish
            [comment_status] => closed
            [ping_status] => closed
            [post_password] => 
            [post_name] => mango-real
            [to_ping] => 
            [pinged] => 
            [post_modified] => 2022-04-19 19:14:50
            [post_modified_gmt] => 2022-04-19 19:14:50
            [post_content_filtered] => 
            [post_parent] => 0
            [guid] => https://abmcocktails.com/real-new/product/mango-real/
            [menu_order] => 62
            [post_type] => product
            [post_mime_type] => 
            [comment_count] => 0
            [filter] => raw
        )

)
                            

Mango Reàl

Other recipes you might like