Simone Caporale
Mixologist Extraordinaire
"Some tales are best told through the senses…"
Simone Caporale is an internationally renowned bartender with a distinctive personal style who is known for his attention to detail, playful presentation and exceptional approach to service. Born in Como, Italy, Simone began refining his mixology craft in bars all around Europe before making his way to the cocktail mecca of the world, London.
After working at handful of different upscale establishments, Simone joined Artesian at The Langham Hotel, one of London's premier cocktail establishments. And under his watch, along with is peer and mentor Alex Kratena, the two helped Artesian capture the title of the World's Best Bar in 2014, the same year Simone was also honored with the International Bartender of the Year Award.
For Simone, great cocktails are just one part in a larger bar experience, and he works to activate all the patron's senses in both the cocktail, the presentation of the drink, and the ambiance of the space it's being served. His expertise doesn't stop with his ability to craft unique flavors into a drink, he and his team work tirelessly to also create the perfect environment for that cocktail to be enjoyed in. Every cocktail experience tells a unique story, and Simone, simply put, is one of the best "storytellers" on the planet.
Connect with Simone Caporale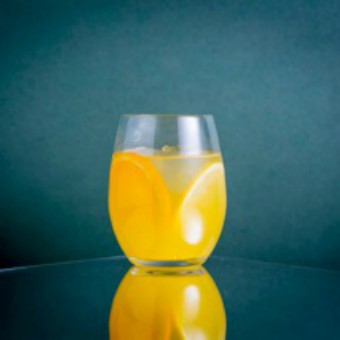 Brazilian in New York
Created by Simone Caporale
This simple, yet flavor packed cocktail pays homage to all the world travelers out there who sometimes just need a drink that reminds them of home.

Ingredients
1 oz. Leblon cachaça
4 oz dry white wine
3/4 oz fresh lime juice
3/4 oz Pineapple REAL Syrup
Directions
Shake and strain the ingredients over an ice cube. Garnish with a citrus wheel.