Oriol Elias
Rum and Tiki Expert
"I love tiki cocktails because they have the power to transport a patron to a far away, exotic destination with just a single sip"
Oriol Elias is a rum lover, mixologist, tiki expert, and self-described "cocktail freak" based in Barcelona, Spain. One of Spain's premier Tiki mixologists, Oriol has spent the last 10 plus years honing his craft at a number of Barcelona rum and tiki bars including Tahiti and the Caribbean Club.
A curious mixologist, Oriol's thirst for knowledge surrounding all things tiki and rum has encouraged him to explore many flavors and trends both behind the bar and outside it. Oriol's professional curiosity with Tiki drinks has made him a workshop and event favorite, where he teaches anyone who will listen about rum and Tiki concoctions. And when he's not mixing up the drinks he's so passionate about, he's writing about the wonderful world of Tiki drinks, rums and mixology on his blog, Three of Strong or at Rum Gazette.
Oriol's deep understanding of rum and Tiki drinks borderlines on the scholarly level, which makes his precise approach to mixology even more impressive. The way he melds flavors is the result of hours of meticulous research and dozens of taste tests. The best part of having one of his cocktails is that you know for certain that it passed the most rigorous test of all, the Oriol self-test!
Connect with Oriol Elias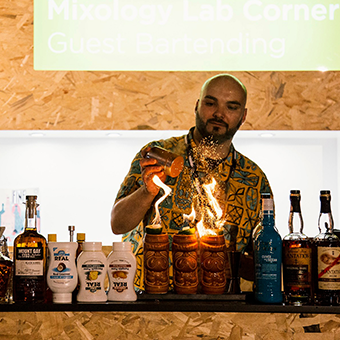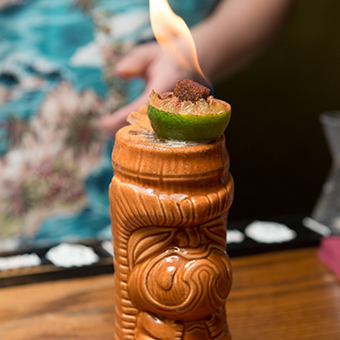 The Forgotten Headhunter
Created by Oriol Elias
This tasty cocktail is sure to entertain patrons with its fiery garnish and might just knock your head off with its plethora of rums.

Ingredients
1 oz Dark Jamaican rum
1 oz Aged Agricole Rhum
1/2 oz Overproof Rum (float)
2 oz Lemon Juice
1 oz Orange Juice
1 1/2 oz Pumpkin Real
1/2 oz Pimento Dram
1 dash bitters
Directions
1-Put everything (except overproof rum) in a shaker with crushed ice.
2-Shake.
3-Serve unstrained in a tiki mug.
4-Add more ice to fill the mug.
5- Float the Overproof Rum.
6-Garnish with the remaining squeezed half lime, putting inside it a sugar cube, some overproof rum (or lemon extract).
7- Set the garnish on fire and dust some powdered cinnamon over it.