Ian Burrell
World Rum Ambassador
"Alcohol is the element, and cocktails are the compound."
Ian Burrell is one of the most travelled and recognized figures in the cocktail and spirits industry, an award winning "EduTainer", and the world's only true global rum ambassador. His work around the world as a mixologist and spirits has redefined the space, having offered masterclasses and seminars on 7 continents, as well as holding the Guinness World Record for the largest organized rum tasting and masterclass in 2014.
Ian created the first ever international rum festival in 2007 with The UK RumFest and inspired the birth of a number of other rum festivals around the world including Miami, Berlin, Paris, Rome, Madrid, Prague, Hong Kong and Cape Town. When he's not sharing his rum trade tricks with audiences around the globe, you can find him on the UK TV 4 Entertainment show "Sunday Brunch", where he educates celebrity guests on different types of rums and rum cocktails.
When you meet Ian, his passion for rum and cocktails is abundantly evident, so infectious, that you just have to get your hands on the cocktails he's so expertly crafting. Thankfully, his travels allow him to share his refined drinks and craft with happy customers all over the world, and folks just can't seem to get enough. If you ever have the chance to try one of Ian's fine cocktails, do it, because no matter where you are, it is sure to transport you to some place wonderfully warm with just one sip!
Connect with Ian Burrell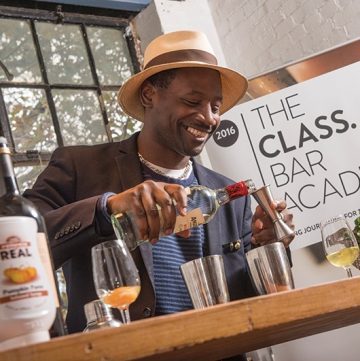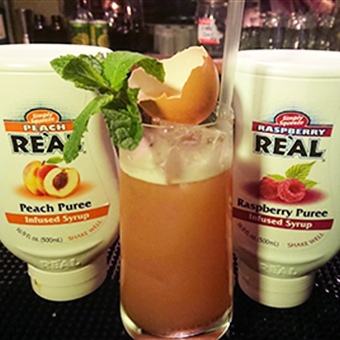 The Peach Melba
Created by Ian Burrell
Dessert is always the best meal of the day, but put that dessert in cocktail form like Ian Burrell's "Peach Melba", and you've got something truly delicious.

Ingredients
1 2/3 oz Don Q Gold Rum
5/6 oz Lemon Juice
1/3 oz Peach Reàl
1/6 oz Rapsberry Reàl
1 Egg White
Directions
Mix ingredients together in a shaker and shake hard. Pour into a tall glass over ice.