Georgi Radev
Rum and Tiki Expert
"When I create cocktails, I create a story, a journey. It begins with the cocktail name, the vessel, the garnish and the drink, and ends with the way you serve it."
Georgi Radav's journey to becoming a famous rum and tiki expert started far away from the bar, as he started his professional life in banking and insurance in Bulgaria. But as he puts it, "You can't keep a free soul prisoner in an office", so after a few months of crunching numbers, he left to join the bar world, passing a number of courses offered by the Bulgarian Bartender Association before moving to one of the cocktail capitals of the world, London.
After hopping around as a mixologist at a number of upscale London establishments, Georgi landed at a Mahiki, where he not only fell in love with rum and tiki drinks, but starting living the Aloha spirit that totally changed his life. With Georgi's help, Mahiki has become one of the top cocktail bars in London for over 10 years, and has expanded its footprint with additional locations in England and across borders to Marbella, Spain, Sardinia, Italy, and Dubai, United Arab Emirates.
Although Georgi's talents behind the bar are widely recognized, they don't just stop there, as he's also the founder and host of the UK's premier Tiki Festival, "The Spirit of Tiki" and made his Hollywood debut as an onscreen mixologist in 2013's "Identity Thief". Georgi's passion for all things rum and tiki cocktails truly knows no bounds, and as the popularity of tropical drinks continues to grow, he plans to be its faithful steward, making sure that people everywhere can enjoy the taste of the tropics always!
Connect with Georgi Radev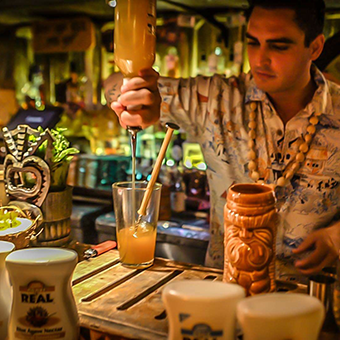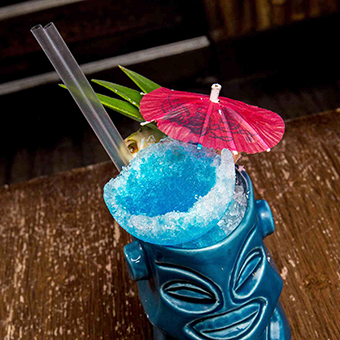 Blue Loo
Created by Georgi Radev
Enjoy this creative Tiki cocktail that brings the taste of the tropics with a unique blueberry twist that is sure to warm your belly and soul.

Ingredients
1 2/3 oz White Rum
1 oz Absinthe
2/3 oz Blueberry Real
1/6 oz Agave Real
1 Ring Fresh Pineapple
2/3 oz Lime Juice
1 oz Soda Water
Directions
Muddle the pineapple in a Boston Glass. Add the rest of the ingredients and a part of the soda water. Shake well and pour over crushed ice in a Tiki Mug. Top with the remaining soda water and garnish with a crushed ice cup with Finest Call Blue Curaçao, blueberries and a couple of pineapple leaves behind.