Daniele Dalla Pola
Rum and Tiki Expert
"A great cocktail involves mixing fragrances, tastes and a sparkle of good mood to create a drink experience that is truly priceless."
Although Daniele Dalla Pola is recognized as one of the world's greatest tropical mixologists, above all, he is a sophisticated connoisseur of the finest, most exotic cocktails. His search for the unique, unexplored and utterly unexpected could not be more evident than at his "lab", the Nu Lounge Bar in Bologna, Italy, where he curates a collection of sugars, spices, essences, and other raw materials to experiment on his latest cocktail combinations.
Inspired throughout his career by the Polynesian symbols and mythology, Daniele has focused much of his career on indigenous and tropical drinks in the world of Tiki cocktails. Daniele prides himself on creating cocktails with delicacy and precision, in mixing fragrances and tastes in creative concoctions, and in showing his patrons the best of times every single night. To Daniele, mixology is an art that doesn't just involve combining great ingredients, but more importantly, reading the room and his clientele to create a cocktail based on their mood.
Born in Italy, Daniele refined his craft as a mixologist spending many years in the hippest bars in Miami before returning to Italy. Now, he travels the world consulting with some of the biggest names in the industry, and recently was recognized as one of the best international bartenders after being nominated at this years Tales of the Cocktail in New Orleans. With Daniele behind the bar, sipping a drink with the fragrant aromas of an exotic, sun-drenched Pacific beach, may not be so far away…
Connect with Daniele Dalla Pola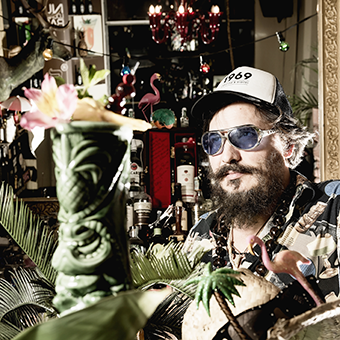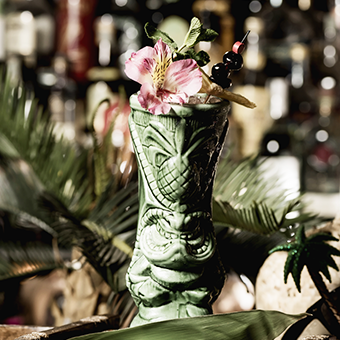 Ohu, Noe, Noe
Created by Daniele Dalla Pola
Ohu, Noe, Noe means fog in Hawaiian, this drink is a twist on the classic Fog Cutter from Trader Vic's

Ingredients
2/3 oz Black Cherry Real
1/3 oz Agave Real
5/6 oz fresh lime juice
1/3 oz fresh ginger juice
1/2 oz Bacardi Carta Oro
5/6 oz gin
5/6 oz brandy
5/6 oz fresh pineapple juice
3 drops of almond extract
2 dashes bitters
Directions
Pour all ingredients into a blender with crushed ice. Blend. Pour directly into a Tiki Mug. Garnish with 3 cherries, pineapple and mint.